Stay Connected
There are over 4,000 University of Houston Chemical Engineering Alumni, most of which still reside within the Houston area. The department is committed to supporting its alumni for life and have created the resources below to encourage both professional and personal connections among our graduate students and friends.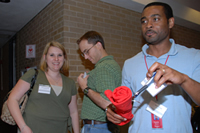 Lifelong Engineering Education
The department offers various continuing education courses for alumni and interested professionals. The courses are offered after work and/or on weekends.