Faculty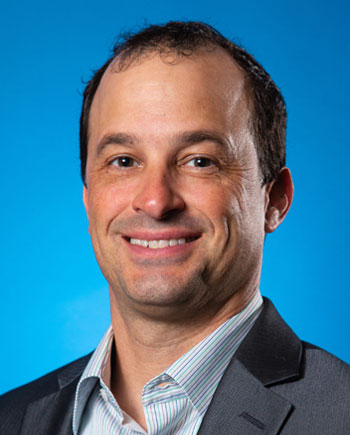 Dr. Patrick C. Cirino

Professor
Undergraduate Program Director
Joint Appointments in Biomedical Engineering and Biology & Biochemistry

Office Location

S337, Engineering Building 1; Laboratory: S294, Engineering Building 1

Email

pccirino

[at]

uh.edu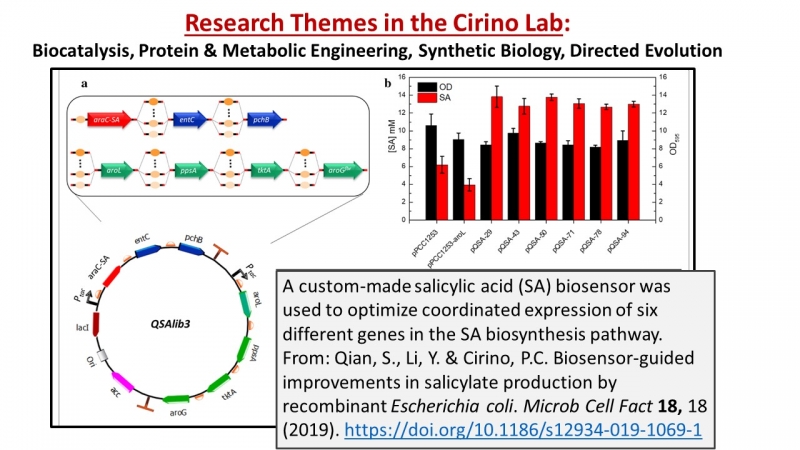 Education
Postdoctoral Associate, University of Florida
Ph.D., California Inst. of Technology, 2004
B.S., Chemical Engineering, Ohio University, 1997
Professional Experience
Assistant Professor, Chemical Engineering, Pennsylvania State University, 2004 – 2010
Associate Professor, Chemical Engineering, Pennsylvania State University, 2010
Associate Professor, Chemical & Biomolecular Engineering, University of Houston, 2011 – 2022
Professor, Chemical & Biomolecular Engineering, University of Houston, 2022 – present
Courses
CHEE 2331, Chemical Processes
CHEE 2332, Chemical Engineering Thermo I
ENGI 2334, Introduction to Thermodynamics
CHEE 3462, Unit Operations
CHEE 4361, Practices Lab
Research Interests
Research in the Cirino lab generally aims to improve "biocatalysis" (broadly, enzyme- and/or microbial-based conversion of chemical feedstocks into higher value chemical products). This includes advancing production of renewable fuels and chemicals, and repurposing or otherwise harnessing often complex natural chemical transformations orchestrated by one or more enzymes. This is accomplished through protein and metabolic engineering, and synthetic biology applications. Most notably, we have pioneered the customization and use of bacterial transcription factors as genetically-encoded biosensors/molecular reporters for high-throughput biocatalyst screening. Current projects include:
design of biosensors for minimal polyketides / engineering type-III polyketide product specificity
engineering E. coli for anaerobic biological activation of short-chain alkanes via fumarate addition
directed evolution of alkylsuccinate synthase substrate specificity
engineering ligand specificity of the ItcR repressor for biosensor applications;
In collaboration with other labs, we more broadly develop and apply molecular and synthetic biology tools. For example, we are developing controllable / inducible gene expression systems in human T-cells using an engineered bacterial repressor protein (MarR) (collaborations Navin Varadarajan (UH) and Dmitry Nevozhay (MD Anderson Cancer Center). Working with Jacinta Conrad (UH), we are designing novel, tunable "appendage" mutants of E. coli and M. hydrocarbonoclasticus; these are useful for studying/engineering bacterial adhesion in bioremediation applications, and bacteria-driven emulsions.
We gratefully acknowledge the National Science Foundation for numerous grants to support these research projects.

Research Group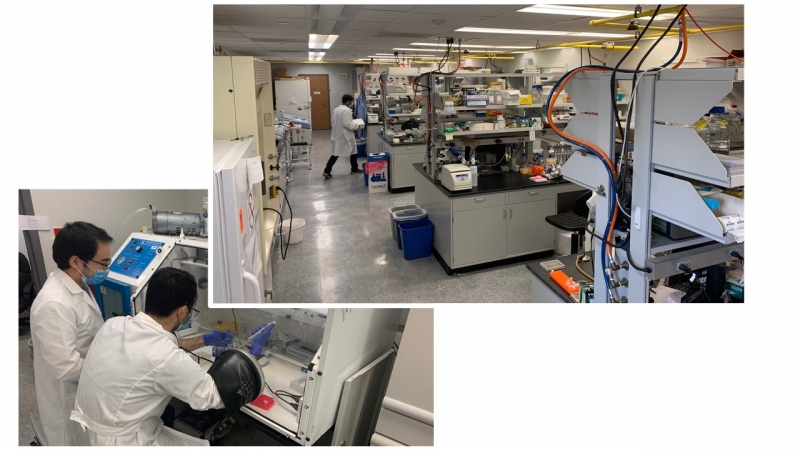 Graduate student projects and other research details can be found on the Cirino Lab Website.
Current Lab Members: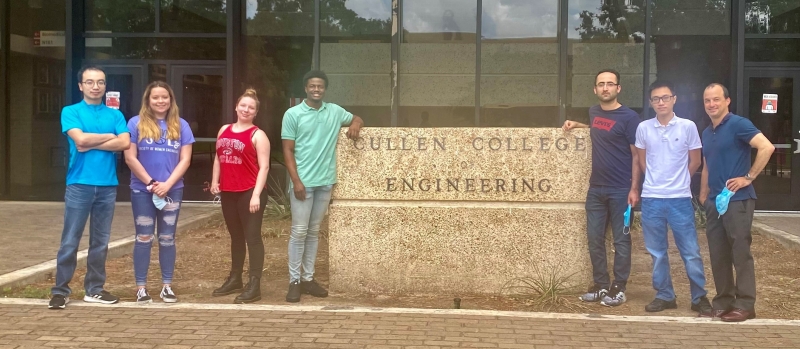 Graduate Students
Ehsan Bahrami (current Ph.D. student)
Nam Nguyen (current Ph.D. student)
Yixi Wang (current Ph.D. student)
Undergraduate Students
Tania Pena Reyes (University of Chicago - Rowley Scholarship)
Ana Alvarez (Volunteer)
Carson Bush  (2021 SURF recipient)
Joshua Nwose
Former Lab Members:
Postdocs
Dr. Joseph Gredell (now Senior Scientist at Novozymes)
Dr. Shuang-Yan Tang (now Professor at Chinese Academy of Sciences, Institute of Microbiology)
Dr. Hui Li
Graduate Students
Aarti Doshi (PhD 2020); Research Scientist at Tessera Therapeutics
Zhiqing Wang (PhD 2019); Research Scientist at Mascoma LLC
Shuai Qian (PhD 2018); Senior Scientist at Solugen
Ye Li (PhD 2017); Assistant Professor, Jiangnan University
Shaza Abnouf (PhD student of N Varadarajan (primary advisor))
Christopher Frei (PhD 2016); Senior Scientist, Manus Biosynthesis
Balakrishnan Ramesh (PhD student of N Varadarajan (primary advisor)); Scientist at Muufri, Inc

Dr. Olubolaji Akinterinwa (PhD 2010): Scientist at Procter & Gamble

Dr. Jonathan Chin (PhD 2010); Senior Scientist at Algenol Biofuels
Dr. Reza Khankal (PhD 2010); Glycos Biotechnology then Chevron
Dr. Hossein Fazelinia (PhD 2009 co-advised by C.Maranas); Children's Hospital, Philadelphia
Lexan Lhu (M.S.; Joule Biotechnologies, MA)
Francesca Luziatelli (visiting PhD student from U of Tuscia, Italy)

Ryan McLay (co-advised) (graduated M.S. student)

Lois Eppihimer (lab manager)
Former Undergraduate Researchers
Tasnuva Haider (volunteer)
Ibrahim Hassan (volunteer)
Anthara Krishnan (volunteer)
Nam Nguyen - SURF
Priya Patel – SURF
Zheng You (volunteer)
Diep Nguyen – SURF
Jennie Nguyen - SURF
Aya Elsaadi - SURF
Rachel Dunn - PURS
Justin Hood (volunteer)
Danielle Valcourt (REU, Notre Dame)
Katy Norman (REU, Trinity)
Wayne Andrade (UH, volunteer)
Chelsea Kraynak (University of MD, REU summer 2012)
Oliver Chou (U Colorado Boulder) REU
Kyle Schutter (Brown University REU; now CEO of Takamoto Biogas Ltd.)
Nicholas Linn (NC State) - REU
Ajay Padaki
Berook T. Alemayehu (U Maryland: Baltimore County) REU
Audrey Leung (University of Iowa) REU
Alex Teng (UC Berkeley) - REU
Caroline Monroe (Penn State)
Anthony Tascone (Penn State)
Renae Patch (Penn State)
Garrett Tobin (Penn State)
Jeremy Sargent (Penn State)
J. Lane Weaver (Penn State)
Jon P. Badalamenti (Penn State)
Lucien E Weiss (Penn State)
Julie Sawlsville (Penn State)
Geoff Geise (Penn State) - REU
Doug Haag (Penn State)
Megan Rex (Penn State)
Chris Cottle (Penn State)
Panagiotis A Papadopoulos (Penn State)
Matthew Zapadka (Penn State)
Galen Lynch (PSU)
Noah Johnson (PSU)
Chris Frei (PSU)
Trevor Wiley
Erica Trump (West Virginia U) – REU
Nimrah Ahmed
Shariful Alam
Aubrey Dolly
Daniel Seong
Work-Study Students
Joshua Nwose
Hiba Ahmed
Chiemela Ubani
Marilu Serna
Arlene Sanchez
Ghazal Nemati
Christian Miles                   
Mulbah Kallen
Louis Avila
Zeal Patel
Areeba Ahmed
Sana Basheer
Ryan Noraas
Tiffany Veet
Khai Van
Jon Ajak
Awards & Honors
2006 N.S.F. CAREER Award Recipient
Professional Activities
Associate Editor: BMC Biotechnology
Editorial Board Member: PLOS One
Board of Advisors, Ohio University Dept. of Chemical & Biomolecular Engineering
Guest Editor, AIChE Journal (2020, honoring Frances Arnold)
Guest Editor, Current Opinion in Biotechnology (multiple issues)
Guest Editor, Journal of Biomedicine and Biotechnology (2010)
ACS BIOT 2012 Program Chair
ACS Symposium Chair 2008, 2009; 2014 (CATL); 2015, 2016
SIMB Biocatalysis program co-chair, 2010 - 2014
Proposal Reviewing: NSF, NIH, DOE (BER, BES), ARPA-E, USDA, others...
Cirino PC and Ingram LO, inventors, Materials and methods for the efficient production of xylitol in E. coli, U.S. Patent Application Serial No. 20070072280. Licensed to BioEnergy International

Arnold FH and Cirino PC, inventors. Thermostable peroxide-driven cytochrome P450 oxygenase variants and methods of use. U.S. Patent No. 7,435,570. Licensed to Codexis

Cirino PC and Arnold FH, inventors. Peroxide-driven cytochrome P450 oxygenase variants. U.S. Patent No. 7,704,715. Licensed to Codexis
Selected Publications
A Doshi, I Bandey, D Nevozhay, N Varadarajan, PC Cirino, Design and characterization of a salicylic acid-inducible gene expression system for Jurkat cells. Journal of Biotechnology 346, 11-14, 2022

Y Wang, N Nguyen, SH Lee, Q Wang, JA May, R Gonzalez, PC Cirino, Engineering Escherichia coli for anaerobic alkane activation: Biosynthesis of (1‐methylalkyl)succinates. Biotechnology and Bioengineering 119 (1), 315-320, 2022

A Doshi, F Sadeghi, N Varadarajan, PC Cirino, Small-molecule inducible transcriptional control in mammalian cells. Critical Reviews in Biotechnology 40 (8), 1131-1150, 2020

Z Wang, A Doshi, R Chowdhury, Y Wang, CD Maranas, PC Cirino, Engineering sensitivity and specificity of AraC-based biosensors responsive to triacetic acid lactone and orsellinic acid. Protein Engineering, Design and Selection 33, 2020

RB McLay, HN Nguyen, YA Jaimes-Lizcano, NK Dewangan, Simone Alexandrova, Debora F Rodrigues, Patrick C Cirino, Jacinta C Conrad, Level of Fimbriation Alters the Adhesion of Escherichia coli Bacteria to Interfaces. Langmuir 34 (3), 1133-1142, 2018

Y Li, Z Wang, PC Cirino, Design and characterization of new β-glucuronidase active site variants with altered substrate specificity. Biotechnology letters 40 (1), 111-118, 2018

Frei CS, Wang ZQ, Qian S, Deutsch S, Sutter M, & Cirino PC, Analysis of amino acid substitutions in AraC variants that respond to triacetic acid lactone. Protein Science, 25(4), 804-814. doi: 10.1002/pro.2873, 2016

Qian S, & Cirino PC, Using metabolite-responsive gene regulators to improve microbial biosynthesis. Current Opinion in Chemical Engineering, 14, 93-102. doi: 10.1016/j.coche.2016.08.020, 2016

Sharma S, Jaimes-Lizcano YA, McLay RB, Cirino PC, & Conrad, JC, Subnanometric Roughness Affects the Deposition and Mobile Adhesion of Escherichia coli on Silanized Glass Surfaces. Langmuir, 32(21), 5422-5433. doi: 10.1021/acs.langmuir.6b00883, 2016

Wang ZQ, & Cirino PC, New and improved tools and methods for enhanced biosynthesis of natural products in microorganisms. Current Opinion in Biotechnology, 42, 159-168. doi: 10.1016/j.copbio.2016.05.003, 2016

Li Y and PC Cirino, Recent advances in engineering proteins for biocatalysis. Biotechnology & Bioengineering, 111(7), 1273-1287., 2014

Grisewood MJ, Gifford NP, Pantazes RJ, Li Y, Cirino PC, Janik MJ, and CD Maranas, OptZyme: computational enzyme redesign using transition state analogues. PLoS One.8(10):e75358, 2013

Qian S and PC Cirino, Protein engineering as an enabling tool for synthetic biology. In Synthetic Biology: Tools and Applications. 23-42. Edited by H. Zhao. Elsevier, 2013

Tang SY, Qian S, Akinterinwa O, Frei CS, Gredell JA, and PC Cirino, Screening for enhancedtriacetic acid lactone production by recombinant Escherichia coli expressing a designedtriacetic acid lactone reporter. Journal of the American Chemical Society. 135:10099-10103, 2013

Gredell JA, Frei CS and PC Cirino, Protein and RNA engineering to customize microbial molecular reporting. Biotechnology Journal. 7(4):477-99, 2012

Ramesh B, Sendra VG, Cirino PC, and N Varadarajan, Single-cell characterization of autotransporter-mediated Escherichia coli surface display of disulfide bond-containing proteins. Journal of Biological Chemistry. 287(46):38580-9., 2012

Akinterinwa O and PC Cirino, Anaerobic obligatory xylitol production in Escherichia coli strains devoid of native fermentation pathways. Applied and Environmental Microbiology.77(2):706-9, 2011

Chin JW and PC Cirino, Strain engineering strategies for improving whole-cell biocatalysis: engineering Escherichia coli to overproduce xylitol as an example. Nanoscale Biocatalysis: Methods in Molecular Biology, 743:185-203, 2011

Chin JW and PC Cirino, Improved NADPH supply for xylitol production by engineered Escherichia coli with glycolytic mutations. Biotechnol. Progress, 27(2):333-41, 2011

Chin, J. W.; Cirino, P. C., Improved NADPH Supply for Xylitol Production by Engineered Escherichia Coli with Glycolytic Mutations. Biotechnology Progress 2011, 27 (2), 333-341., 2011

Fasan R, Crook NC, Landwehr M, Cirino PC, and FH Arnold, Improved product-per-glucose yields in P450 dependent propane biotransformations using engineered E. coli. Biotechnol Bioeng., 108(3):500-10, 2011

Fasan, R.; Crook, N. C.; Peters, M. W.; Meinhold, P.; Buelter, T.; Landwehr, M.; Cirino, P. C.; Arnold, F. H., Improved NADPH supply for xylitol production by engineered Escherichia coli with glycolytic mutations. Biotechnol. Progress, 27(2):333-41, 2011

Tang SY and Cirino PC, Design and application of a novel mevalonate-responsive regulatory protein. Angewandte Chemie International Edition. 50(5):1084-6, 2011

Cirino PC, Metabolic engineering strategies for production of commodity and fine chemicals: Escherichia coli as a platform organism. Manual of Industrial Microbiology and Biotechnology. ASM Press, ISBN: 9781555815127, 2010

Tang SY and PC Cirino, Elucidating residue roles in engineered variants of AraC regulatory protein. Protein Sci. 19(2):291-8, 2010
Editorials / Edited Volumes
Alper H, Cirino P, Nevoigt E, and Sriram G, Applications of Synthetic Biology in Microbial Biotechnology. J Biomedicine Biotechnology. Article ID 918391, 2020
SELECTED PUBLICATIONS
Akinterinwa O and PC Cirino, Heterologous expression of D-xylulokinase from Pichia stipitis enables high levels of xylitol production by engineered Escherichia coli growing on xylose. Metab Eng. 11(1):48. Cover article, 2009
Akinterinwa, O and PC Cirino, Catabolism and Metabolic Fueling Processes. In: The Metabolic Pathway Engineering Handbook, ISBN: 9780849339233, 2009
Chin JW, Khankal R, Monroe CA, Maranas CD, and PC Cirino, Analysis of NADPH supply during xylitol production by engineered Escherichia coli. Biotechnol. Bioeng. 102(1):209.Spotlight article, 2009
Fazelinia H, Cirino PC, and CD Maranas, OptGraft: A computational procedure for transferring a binding site onto an existing protein scaffold. Protein Sci. 18(1):180, 2009
Frei CS and PC Cirino, Combinatorial Enzyme Engineering. In: Protein Engineering and Design. J.R. Cochran and S. Park, Eds. Publisher: CRC; 1 edition, ISBN-10: 1420076582, 2009
Khankal R, Chin JW, Ghosh D, and PC Cirino, Transcriptional effects of CRP* expression in Escherichia coli. J. Biol. Eng. 3:13, 2009
Khoury GA, Fazelinia H, Cirino PC, and CD Maranas, Computationally driven redesign of Candida boidinii xylose reductase for altered cofactor specificity. Protein Sci.18(10):2125-38. Cover article, 2009
Akinterinwa O, Khankal R, and PC Cirino, Metabolic Engineering for Bioproduction of Sugar Alcohols. Curr Opin Biotechnol. 19(5):461, 2008
Cirino PC and Sun L, Advancing Biocatalysis through Enzyme, Cellular, and Platform Engineering. Biotechnol. Progr. 24(3):515, 2008
Khankal R, Chin JW, PC Cirino, Role of xylose transporters in Escherichia coli engineered for xylitol production. J. Biotechnol. 134(3-4):246, 2008
Khankal R, Luziatelli F, Chin JW, Frei CS and PC Cirino, Comparison between three common Escherichia coli lab strains as platforms for xylitol production. Biotechnol Lett.30(9):1645, 2008
Tang SY, Fazelinia H, and PC Cirino, AraC regulatory protein mutants with altered effector specificity. J. Am. Chem. Soc. 130(15):5267, 2008
Weiss LE, Badalamenti JP, Weaver JL, Tascone AR, Weiss PS, Richard TL, and PC Cirino, Engineering motility as a phenotypic response to LuxI/R-dependent quorum sensing in Escherichia coli. Biotechnol Bioeng. 100(6):1251. Spotlight article, 2008
Badalamenti JP, Weiss LE, Buckno CJ, Richard TL, Weiss PS, and PC Cirino, Synthetic Sports: A Bacterial Relay Race. IET Synth. Biol. 1:61, 2007
Fazelinia H, Cirino PC, and CD Maranas, Extending IPRO in protein library design for ligand specificity. Biophys. J. 92(6):2120, 2007
Cirino PC, Chin JW and LO Ingram, Engineering Escherichia coli for Xylitol Production from Glucose-Xylose Mixtures. Biotechnol. Bioeng. 95: 1167, 2006
Cirino PC and FH Arnold, A self-sufficient peroxide-driven hydroxylation biocatalyst. Angew. Chem.-Int. Edit. 42: 3299, 2003
Cirino PC and R Georgescu, Screening for thermostability. Methods Mol Biol. 230: 117, 2003
Cirino PC, Mayer KM, and D Umeno, Generating mutant libraries using error-prone PCR. Methods Mol Biol. 231: 3, 2003
Cirino PC, Tang Y, Takahashi K, Tirrell DA and FH Arnold, Global Incorporation of Norleucine in Place of Methionine in Cytochrome P450 BM-3 Heme Domain Increases Peroxygenase Activity. Biotechnol. Bioeng. 83: 729, 2003
Salazar O*, Cirino PC* (*equal contributions) and FH Arnold, Thermostabilization of a Cytochrome P450 Peroxygenase. ChemBioChem. 4: 891, 2003
Cirino PC and FH Arnold, Protein engineering of oxygenases for biocatalysis. Curr. Opin. Chem. Biol. 6: 130, 2002
Cirino PC and FH Arnold, Regioselectivity and activity of cytochrome P450 BM-3 and mutant F87A in reactions driven by hydrogen peroxide. Adv. Synth. Catal. 344: 932, 2002