Faculty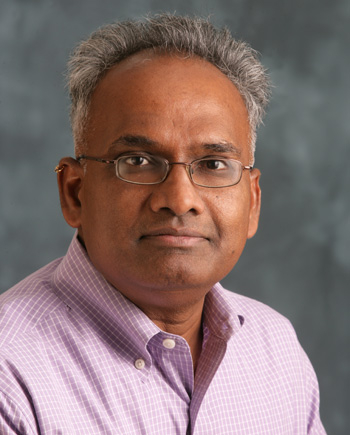 Dr. Vemuri Balakotaiah

Professor
Hugh Roy and Lillie Cranz Cullen Distinguished University Chair

Office Location

S237, Engineering Building 1
Education
Ph.D. Chemical Engineering, University of Houston, 1982
B.Tech Chemical Engineering, I.I.T., Madras, 1978
Courses
Mathematical Methods in Chemical Engineering I (CHEE 6331)
Mathematical Methods in Chemical Engineering II (CHEE 6332)
Applied Nonlinear Methods for Engineers (CHEE 7350)
Two Phase Flows (CHEE 6397/5397)
Analysis of Physiological Transport Phenomena (CHEE 6397)
Cellular and Biological Transport Phenomena (CHEE 6385)
Transport Phenomena in Physiologic Systems (CHEE 6397)
Applications of Bifurcation Theory (CHEE 7397)
Computational Methods for Chemical Engineers (CHEE 7397)
Biochemical Engineering Fundamentals (CHEE 6397)
Chemical Reaction Engineering (CHEE 4367)
Transport Phenomena (ENGI 3331)
Elementary Fluid Mechanics (ENGI 3363)
Chemical Processes (CHEE 2332)
Research Interests
Dr. Balakotaiah's research involves the mathematical modeling and analysis of the interactions between the transport processes and chemical reactions in various systems of engineering interest. The objective of the research is to gain a fundamental understanding of the complex behavior of these nonlinear systems and use this understanding to solve some practical problems.
Chemical and Catalytic Reaction Engineering:
Modeling and Analysis of Catalytic Monoliths
Monolithic catalytic reactors are used for pollution reduction in automobiles, oxidation of VOCs, power generation and removal of NOx from exhaust gases. Our work in this area includes the development of mathematical models of these systems and analysis and simulation of the behavior under transient/periodic operation under various catalyst compositions and chemistries.
Numerical Computation and Bifurcation Analysis of Homogeneous and Catalytic Reactors
Reacting flows exhibit multiple solutions, oscillating flow, temperature and concentration fields, spatial and temporal patterns, traveling fronts and exponentially thin boundary or internal (reaction) layers. Our work in this area includes the development and application of various analytical and computational techniques (singularity, bifurcation, group theories and dynamical systems concepts) to explore and classify the different types of behaviors in the parameter space.
Spatio-temporal Pattern Formation in Reactors and Reacting Flows
Chemical reactions carried out in open systems (reactors, living cells, neurons and complex living organisms) do not, in general, proceed to equilibrium. Instead, asymptotic states are established, at which the net rate of production of any species due to chemical transformations is exactly balanced by its net rate of removal either by flow or by molecular diffusion. When autocatalysis is present the system may exhibit a variety of asymptotic states such as periodic states in time, periodic states in space (Turing patterns) and complex spatio-temporal behavior (chemical chaos or turbulence). Our work in this area is aimed at identifying the conditions leading to pattern formation and the impact of transport effects and kinetics on the observed patterns.
Multi-phase Flows:
Studies on Wavy Films in Gas-Liquid Two-Phase Flows
The surface of a freely falling liquid film can exhibit complex spatio-temporal behavior at arbitrarily small Reynolds number. Our work in this area includes experimental, analytical and computational studies of momentum, heat and mass transfer in wavy films under different conditions: free falling, co and counter-current flows, horizontal and vertical flows and annular flows in microgravity.
Studies on Gas-Liquid Two-Phase Flows through Packed-Beds under Normal and Microgravity Conditions
Gas-liquid two-phase flows through packed-beds occur in many normal gravity applications. In addition, this is identified as an enabling technology for long duration space travel. Our work in this area is aimed at understanding of the fundamental role of capillary and viscous forces in controlling phase distribution and transport of momentum, heat and mass in gas-liquid flows through micro-channels and packed-beds under normal and microgravity conditions.
Petroleum Engineering:
Modeling and analysis of wormholing in carbonate acidization
Stimulation of oil and gas wells in carbonate reservoirs using an acid (HCl, formic acid, acetic acid, EDTA, etc.) is a common practice to enhance oil/gas flow to the wellbore. As the acid penetrates into the porous rock, it dissolves the rock creating conducting channels known as wormholes. The wormholes bypass the damaged zone around the wellbore, leaving highly permeable channels for the oil/gas to flow back after the treatment. The formation of the wormholes depends on the injection rate of acid, volume injected, type of acid, mineralogy, heterogeneity (i.e. non-uniformity in porosity/permeability) of the formation, temperature and so forth. Two important engineering science issues that arise in the acidization of carbonate reservoirs are: (i) for a given set of field conditions (rock properties such as average permeability, porosity, heterogeneity scale, acid & temperature), how to identify the optimum treatment conditions that produce the maximum stimulation (or increase in permeability) for a given amount of acid injected and (ii) how to design the fluid properties so that the acid is diverted to achieve maximum stimulation of the low permeability regions. Our work in this area is aimed at understanding these issues.
Biomedical Engineering:
Dr. Balakotaiah's research in the biomedical area (jointly with Professor Akhil Bidani) deals with two specific projects:
Multi-scale Mathematical Modeling of Physiological systems
The process of pulmonary gas uptake is a multi-scale one, characterized by multiple time and length scales which are coupled non-linearly through the processes of diffusion, convection and reaction. We apply a multi-scale modeling approach to clarify the mechanisms underlying oxygen defect in HPS, and quantify separately the contributions of vascular dilatations, intrapulmonary R→L shunts, and/or V-Q (ventilation-perfusion) heterogeneities. Other projects in this area include detailed modeling of transport and reaction of reactive gases (oxygen, CO and NO) in the red blood cell and quantifying CO and NO poisoning in the blood.
Kinetics of Phagosomal pH During Macrophase Phagocytosis of Microbial Pathogens
Organellar or Phagosomal pH in immune cells is determined by a balance between the rate of proton pumping (V-ATPase), counter-ion conductance, proton leak and specific voltage-gated and pH dependent proton channels. The goal of this project is to develop a first-principles based quantitative description of the mechanisms of endosomal acidification in macrophases.
Awards & Honors
2007: Flour-Daniel Faculty Excellence Award, Cullen College of Engineering
2003: Award for Excellence in Research and Scholarship, University of Houston
2001: Ya. B. Zeldovich Award, The Dow Chemical Company
1998-2001: Member, Modeling Technical Advisory Board, The Dow Chemical Company
Selected Publications
Balakotaiah, V., et al., "Autothermal reactor design for catalytic partial oxidations." Chemical Engineering Journal 374: 1403-1419, 2019

Sun, Z., et al., "Bifurcation analysis of catalytic partial oxidations in laboratory-scale packed-bed reactors with heat exchange." Chemical Engineering Journal 377., 2019

Taghavi, M. and V. Balakotaiah, "Gas hold-up and bubble behavior in an upflow packed bed column in the limit of low flow rate." Aiche Journal 65(8)., 2019

Alam, I., West, D. H., & Balakotaiah, V., Transport effects on pattern formation and maximum temperature in homogeneous-heterogeneous combustion. Chemical Engineering Journal, 288, 99-115. doi: 10.1016/j.cej.2015.11.053, 2016

Dadi, R. K., Luss, D., & Balakotaiah, V., Bifurcation features of mixtures containing CO and hydrocarbons in diesel oxidation catalyst. Chemical Engineering Journal, 304, 941-952. doi: 10.1016/j.cej.2016.06.119, 2016

Dadi, R. K., Luss, D., & Balakotaiah, V., Dynamic hysteresis in monolith reactors and hysteresis effects during co-oxidation of CO and C2H6. Chemical Engineering Journal, 297, 325-340. doi: 10.1016/j.cej.2016.03.139, 2016

Gu, T., & Balakotaiah, V., Impact of heat and mass dispersion and thermal effects on the scale-up of monolith reactors. Chemical Engineering Journal, 284, 513-535. doi: 10.1016/j.cej.2015.09.005, 2016

Maheshwari, P., Maxey, J., & Balakotaiah, V., Reactive-Dissolution Modeling and Experimental Comparison of Wormhole Formation in Carbonates With Gelled and Emulsified Acids. Spe Production & Operations, 31(2), 103-119., 2016

Umeasiegbu, C. D., Balakotaiah, V., & Krishnamoorti, R., pH-Induced Re-entrant Microstructural Transitions in Cationic Surfactant-Hydrotrope Mixtures. Langmuir, 32(3), 655-663. doi: 10.1021/acs.langmuir.5b0221, 2016

Ratnakar, R. R., & Balakotaiah, V., Coarse-graining of diffusion-reaction models with catalyst archipelagos. Chemical Engineering Science, 110, 44-54., 2014

Salgi, P., & Balakotaiah, V., Impact of Gravity on the Bubble-to-Pulse Transition in Packed Beds. Aiche Journal, 60(2), 778-793., 2014

V. Balakotaiah and D. H. West, Thermal Effects and Bifurcations in Catalytic Partial Oxidations", Current Opinion in Chemical Engineering, 5, 68-77., 2014

A. Kota, D. Luss and V. Balakotaiah, "Modeling Studies of Low-temperature Aerobic NOx Reduction by a Sequence of LNT-SCR Bricks", AIChE J., 59, pp. 3421-3431, 2013

B. Shakya, M. Harold and V. Balakotaiah, "Using Crystallite Scale Model to Explain the Effect of Cycle Time on NH3 Generation in Low Dispersion Pt/BaO/Al2O3 Catalysts", Chemical Engineering Journal, 230, pp.584-594, 2013

I. Alam and V. Balakotaiah, "Spectral Properties and Low-dimensional Description of Loop and Recycle Reactors", AIChE Journal, 59, pp. 3365-3377, 2013

M. Yu, D. Luss and V. Balakotaiah, "Analysis of Regeneration Modes of a Diesel Particulate Filter", Chemical Engineering Journal, 232, pp.541-554, 2013

M. Yu, D. Luss and V. Balakotaiah, "Analysis of Ignition in a Diesel Particulate Filter", Catalysis Today, 216, pp.158-168, 2013

M. Yu, D. Luss and V. Balakotaiah, "Analysis of Flow Distribution and Heat Transfer in a Diesel Particulate Filter", Chemical Engineering Journal, 226, pp.68-78, 2013

P. Maheshwari and V. Balakotaiah, "Comparison of Carbonate Acidization Experiments with 3-D Simulations", SPE Production and Operations Journal, (in press, DOI: 10.2118/164517-PA), 2013

P. Maheswari, R. Ratnakar, N. Kalia and V. Balakotaiah, "3-D Simulation and Analysis of Reactive Dissolution and Wormhole Formation in Carbonate Rocks", Chem. Engng. Sci., 90, pp.258-274, 2013

P. Metkar, M. Harold & V. Balakotaiah, "Experimental and Kinetic Modeling Study of NH3-SCR of NOx on Fe-ZSM-5, Cu-Chabazite and Combined Fe-and Cu-Zeolite Monolith Catalysts", Chem. Engng. Sci., 87, pp.51-66, 2013

R. Aris and V. Balakotaiah, "Asymptotic Effectiveness of a Catalyst Particle in the Form of a Hollow Cylinder", AIChE Journal, 2013

R. R. Ratnakar and V. Balakotaiah, "Coarse-graining of Diffusion-Reaction Models with Catalyst Archipelagos", Chemical Engineering Science, (in press, doi:10.1016/j.ces.2013.08.011), 2013

R. Raj, M. Harold and V. Balakotaiah, "NO Inhibition Effects During Oxidation of Propylene on Cu-Chabazite Monolithic Catalyst: A Kinetic and Mechanistic Study", Ind. Engng. Chem., (in press, DOI: 10.1021/ie4009343), 2013

R. Ratnakar, N. Kalia and V. Balakotaiah, "Modeling, Analysis and Simulation of Acidization in Carbonate Rocks with In-situ Cross-linked Acids", Chem. Engng. Sci., 90, pp.179-199, 2013

S. R. Gundlapally and V. Balakotaiah, "Effect of Substrate Material on the Steady-state and Transient Behavior of Catalytic Monoliths", Chem. Engng. Sci., 92, pp.198-210, 2013

Gundlapally, S. R.; Balakotaiah V., Heat and mass transfer correlations and bifurcation analysis of catalytic monoliths with developing flows. Chemical Engineering Science 2011, 66 (9), 1879-1892., 2011

Joshi, S. Y.; Ren, Y. J.; Harold, M. P.; Balakotaiah, V., Determination of kinetics and controlling regimes for H(2) oxidation on Pt/Al(2)O(3) monolithic catalyst using high space velocity experiments. Applied Catalysis B-Environmental 2011, 102 (3-4), 484-495., 2011

Kumar, A.; Zheng, X. L.; Harold, M. P.; Balakotaiah, V., Microkinetic modeling of the NO + H(2) system on Pt/Al(2)O(3) catalyst using temporal analysis of products. Journal of Catalysis 2011, 279 (1), 12-26., 2011

Kumar, P.; Franchek, M.; Grigoriadis, K.; Balakotaiah, V., Fundamentals-Based Low-Dimensional Combustion Modeling of Spark-Ignited Internal Combustion Engines. Aiche Journal 2011, 57 (9), 2472-2492., 2011

Metkar, P. S.; Balakotaiah, V.; Harold, M. P., Experimental study of mass transfer limitations in Fe- and Cu-zeolite-based NH(3)-SCR monolithic catalysts. Chemical Engineering Science 2011, 66 (21), 5192-5203., 2011

Metkar, P. S.; Salazar, N.; Muncrief, R.; Balakotaiah, V.; Harold, M. P., Selective catalytic reduction of NO with NH(3) on iron zeolite monolithic catalysts: Steady-state and transient kinetics. Applied Catalysis B-Environmental 2011, 104 (1-2), 110-126., 2011

Meza, C. E.; Balakotaiah, V., Celerity-Amplitude Relations for Solitary Waves on Vertically Falling Films. Industrial & Engineering Chemistry Research 2011, 50 (23), 13258-13272., 2011

Ratnakar, R. R.; Balakotaiah, V., Exact averaging of laminar dispersion. Physics of Fluids 2011, 23 (2)., 2011

Xu, J.; Harold, M. P.; Balakotaiah, V., Modeling the effects of Pt loading on NOx storage on Pt/BaO/Al(2)O(3) catalysts. Applied Catalysis B-Environmental 2011, 104 (3-4), 305-315., 2011
Journal Papers / Refereed Journal Publications
Ashok Kumar, M. P. Harold and V. Balakotaiah, "Isotopic Studies of NOx Storage and Reduction Using Temporal Analysis of Products", Journal of Catalysis., 270, pp. 214-223, 2010

Divesh Bhatia, M. P. Harold and V. Balakotaiah, "Modeling the effect of Pt dispersion and temperature during anaerobic regeneration of a lean NOx trap catalyst", Catalysis Today,151, pp. 314-329, 2010

R. R. Ratnakar and V. Balakotaiah, "On the Use of Transfer and Dispersion Coefficient Concepts in Low-dimensional Diffusion-Convection-Reaction Models", Chemical Engineering Research and Design, 88, 342-361, 2010

S. R. Gundlapally, R. Agrawal, D. H. West and V. Balakotaiah, "Influence of Non-uniform Activity and Conductivity on Stationary and Moving Patterns in Catalytic Reactors, Chem. Engng. Sci., 65, pp. 1522-1538, 2010

S. Y. Joshi, M. P. Harold and V. Balakotaiah, "Overall Mass Transfer Coefficients and Controlling Regimes in Catalytic Monoliths", Chem. Engng. Sci., 65, pp. 1729-1747, 2010
JOURNAL PAPERS / REFEREED JOURNAL PUBLICATIONS
A. Kumar, V. Medhekar, M. P. Harold and V. Balakotaiah, "NO Decomposition and Reduction on Pt/Al2O3 Powder and Monolith Catalysts using the TAP Reactor", Applied Catalysis B: Environmental, 90, pp. 642-651, 2009
D. Bhatia, M. P. Harold and V. Balakotaiah, "Kinetic and Bifurcation Analysis of the Co-oxidation of CO and H2 in Catalytic Monolith Reactors", Chem. Eng. Sci., 64, 1544-1558, 2009
D. Bhatia, R. D. Clayton, M. P. Harold and V. Balakotaiah, "A Global Kinetic Model for NOx Storage and Reduction on Pt/BaO/Al2O3 Monolith Catalysts", Catalysis Today, 147S, pp. S250-S256, 2009
D. Bhatia, Robert W. McCabe, M. P. Harold and V. Balakotaiah, "Experimental and kinetic study of NO oxidation on model Pt catalysts", Journal of Catalysis., 266, pp.106-119, 2009
J. Xu, M. P. Harold and V. Balakotaiah, "Microkinetic Modeling of Steady-State NO/H2/O2 on Pt/BaO/Al2O3 Monolith Catalysts", Applied Catalysis B: Environmental, 89, pp. 73-86, 2009
N. Kalia and V. Balakotaiah, "Effect of Medium Heterogeneities on Reactive Dissolution of Carbonates", Chem. Engng. Sci., 64, 376-390, 2009
R. Clayton, M. P. Harold and V. Ba, "Performance Features of Pt/BaO/Al2O3 Lean NOx Trap with Hydrogen as Reductant", AIChE Journal, 55, 3, pp. 687-700, 2009
R. D. Clayton, M. P. Harold and V. Balakotaiah, C. Z. Wan, "Pt Dispersion Effects during NOx Storage and Reduction on Pt/BaO/Al2O3 Catalyst", Applied Catalysis B: Environmental, 90, pp. 662-676, 2009
S. Y. Joshi, M. P. Harold and V. Balakotaiah, "Low-dimensional Models for Real Time Simulation of Catalytic Monoliths", AIChE Journal, 55, 1771-1783, 2009
S. Y. Joshi, M. P. Harold and V. Balakotaiah, "On the Use of Internal Mass Transfer Coefficients in Modeling of Diffusion and Reaction in Catalytic Monoliths", Chem. Engng. Sci., 64, 4976-4991, 2009
C. Meza and V. Balakotaiah, "Experimental and Modeling Studies of Large Amplitude Waves on Vertically Falling Films", Chem. Engng. Sci., 63, pp.4704-4734, 2008
J. Xu, R. Clayton, V. Balakotaiah and M. P. Harold, "Experimental and Microkinetic Modeling of Steady-State NO Reduction by H2 on Pt/BaO/Al2O3 Monolith Catalysts", Applied Catalysis B: Environmental, 77, 395-408, 2008
N. Malamataris and V. Balakotaiah, "Flow Structure Underneath the Large Amplitude Waves of a Vertically Falling Film", AIChE Journal, 54, pp.1725-1740, 2008
R. Agrawal, D. H. West and V. Balakotaiah, "Transport-Limited Pattern Formation in Fluid Particle Catalytic Systems", Chem. Engng. Sci., 63, 460-483, 2008
R. Clayton, M. P. Harold and V. Balakotaiah, "NOx Storage and Reduction with H2 on Pt/BaO/Al2O3 Monolith:Spatio-Temporal Resolution of Reaction Pathways", Applied Catalysis B: Environmental, 84, pp. 616-630, 2008
R. D. Clayton, M. P. Harold and V. Balakotaiah, "Selective Catalytic Reduction of NO by H2 in O2 on Pt/BaO/Al2O3 Monolith NOx Storage Catalysts", Applied Catalysis B: Environmental, 81, pp.161-181, 2008
V. Balakotaiah, "Taylor Dispersion with Absorbing Boundaries", Physical Review Letters", 100, 029402-1, 2008
V. Balakotaiah, "On the Relationship between Sherwood numbers, Aris numbers, Friction and Effectiveness factors", Chem. Engng. Sci., 63, 5802-5812, 2008
M. Sharma, R. Clayton, M. P. Harold and V. Balakotaiah, "Multiplicity in Lean NOx Traps", Chem. Engng. Sci., 62, 5176-5181, 2007
N. Kalia and V. Balakotaiah, "Modeling and Analysis of Wormhole Formation in Reactive Dissolution of Carbonate Rocks", Chem. Engng. Sci., 62, pp. 919-928, 2007
R. Agrawal, D. H. West and V. Balakotaiah, "Modeling and Analysis of Local Hot Spot Formation in Down-flow Adiabatic Packed-Bed Reactors", Chem. Engng. Sci., 62, 4926-4943, 2007
S. Chakraborty, V. Balakotaiah and A. Bidani, "Multiscale Model for Pulmonary Oxygen Uptake and its Application to Hypoxemia in Hepatopulmonary Syndrome", Journal of Theoretical Biology, 244, pp. 190-207, 2007
V. Medhekar, V. Balakotaiah and M. P. Harold, "TAP Study of NOx Storage and Reduction on Pt/Al2O3 and Pt/BaO/Al2O3", Catalysis Today, 121, pp. 226-236, 2007
K. Ramanathan, D. H. West and V. Balakotaiah, "Ignition Criterion for General Kinetics in a Catalytic Monolith", AIChE Journal, 52, pp. 1623-1629, 2006
R. Mudunuri and V. Balakotaiah, "Solitary Waves on Thin Falling Films in the Very Low Forcing Frequency Limit", AIChE Journal, 52, 12, pp. 3995-4003, 2006
M. Panga, M. Ziauddin and V. Balakotaiah, "Two-scale Continuum Model for Simulation of Wormhole Formation in Carbonate Acidization", AIChE Journal, 51, pp. 3231-3248, 2005
M. Panga, R. Mudunuri and V. Balakotaiah, "Long Wavelength Equation for Vertically Falling Films", Physical Review E, 71, pp. 36310-1 to 36310-18, 2005
M. Sharma, M. P. Harold and V. Balakotaiah, "Analysis of Periodic Storage and Reduction of NOx in Catalytic Monoliths", Ind. Engng. Chem. Res., 44, pp. 6264-6277, 2005
M.K.R. Panga, R. R. Mudunuri and V. Balakotaiah, "Long-wavelength Equation for Vertically Falling Films", Physical Review E, 71,36310-1, 2005
S. Chakraborty and V. Balakotaiah, "Spatially Averaged Multiscale Models for Chemical Reactors", Advances in Chemical Engineering, Vol. 30, 2005