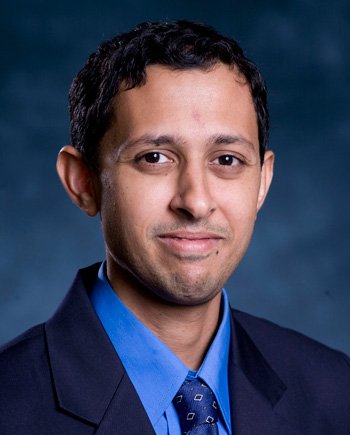 M.D. Anderson Professor of Chemical and Biomolecular Engineering
Phone: 713-743-1691 | Fax: 713-743-4323
Email:
nvaradarajan

[at]

uh [dot] edu
Education:
B.S. Chemistry, University of Madras (1998)
M.S. Organic Chemistry, India Institute of Science (2001)
Ph.D. Chemistry, University of Texas at Austin (2006)
Research Interests:
Our lab is developing high-throughput screens designed to characterize a wide range of biological functions ranging from the properties of proteins in single cells to antigen mediated cellular cytotoxicity. The development of these assays should serve as versatile platforms for the systemic investigation of B cells and antibodies in autoimmune diseases; characterizing T cell responses in cancer and engineering therapeutic enzymes/antibodies.
Awards & Honors:
2009-Present Member, American Institute of Chemical Engineers
2006-Present Member, American Chemical Society
1998-2001 Indian Institute of Science, Integrated PhD Fellowship
Selected Publications
An, X. Y., et al. ,

"Single-cell deconvolution identifies T-cell correlates of response to PD-1 blockade treatment in AML." Journal for Immunotherapy of Cancer 7.

, 2019

Bandey, I., et al.,

"Designed improvement to T-cell immunotherapy by integrated single cell profiling." Journal for Immunotherapy of Cancer 7.

, 2019

Mahendra, A., Peyron, I., Thaunat, O., Dollinger, C., Gilardin, L., Sharma, M., Lacroix-Desmazes, S, Generation of catalytic antibodies is an intrinsic property of an individual's immune system: a study on a large cohort of renal transplant patients, Journal of Immunology, 196

, 2016

Mahendra, A., Peyron, I., Thaunat, O., Dollinger, C., Gilardin, L., Sharma, M., Lacroix-Desmazes, S., Generation of Catalytic Antibodies Is an Intrinsic Property of an Individual's Immune System: A Study on a Large Cohort of Renal Transplant Patients, Journal of Immunology, 196(10), 4075-4081, DOI: 10.4049/jimmunol.1403005

, 2016

Singh, H., Huls, M. H., Figliola, M. J., Zhang, L., Mi, T. J., Maiti, S., Kebriaei, P., Next-Generation Non-Viral Gene Transfer to Redirect T-Cell Specificity, Molecular Therapy, 24, S110-S111.

, 2016

Aquino-Lopez, A., Senyukov, V., Romain, G., Varadarajan, N., & Lee, D. A., IFN gamma has variable effects on expression of MHC Class I and ICAM-1 in pediatric cancers which alter sensitivity to NK cell mediated lysis, Journal of Immunology, 196

, 2016

Mahendra, A., Yang, X. Y., Qiu, P., Park, D., Coarfa, C., Agrwal, S. K., & Varadarajan, N., New insights into rheumatoid arthritis by whole transcriptome profiling of autoreactive B cells, Journal of Immunology, 196.

, 2016

Krogsgaard, M., Moogk, D., Zhong, S., Rittase, W., Fang, V., Dougherty, J., Frey, A. B., Constitutive LcK activity drives sensitivity differences between CD8+memory T cell subsets, Journal of Immunology, 196.

, 2016

Moogk, D., Zhong, S., Yu, Z. Y., Liadi, I., Rittase, W., Fang, V., Krogsgaard, M., Constitutive Lck Activity Drives Sensitivity Differences between CD8(+) Memory T Cell Subsets, Journal of Immunology, 197(2), 644-654, DOI: 10.4049/jimmunol.1600178

, 2016

Liadi I; Singh H; Romain G; Rey-Villamizar N; Merouane A; Adolacion JR; Kebriaei P; Huls H; Qiu P; Roysam B; Cooper LJ; Varadarajan N.,

Individual motile CD4+ T cells can participate in efficient multi-killing through conjugation to multiple tumor cells Cancer Immunol Res doi: doi:10.1158/2326-6066.CIR-14-0195

, 2015

Merouane A; Villamizar NR; Liu Y; Liadi I; Romain G; Singh H; Lu J; Cooper LJN; Varadarajan N; Roysam B,

Automated and Quantitative Profiling of Individual Cell-Cell Interactions from High-throughput Time-lapse Imaging Microscopy in Nanowell Grids (TIMING) Bioinformatics doi: 10.1093/bioinformatics/btv355

, 2015

Romain G; Senyukov V; Rey-Villamizar N; Merouane A; Kelton W; Liadi I; Mahendra A; Charab W; Georgiou G; Roysam B; Lee DA; Varadarajan N,

Antibody Fc engineering improves frequency and promotes kinetic boosting of serial killing mediated by NK cells Blood Nov 20;124(22):3241-9.

, 2014

Dekosky BJ, Ippolito GC, Deschner RP, Lavinder JJ, Wine Y, Rawlings BM, Varadarajan N, Giesecke C, Dörner T, Andrews SF, Wilson PC, Hunicke-Smith SP, Willson CG, Ellington AD, Georgiou G,

"High-throughput sequencing of the paired human immunoglobulin heavy and light chain repertoire," Nat Biotech Jan 20; 31(2):166-. doi: 10.1038/nbt.2492

, 2013

Liadi I, Roszik J, Romain G, Cooper LJN, Varadarajan N,

"Quantitative High-Throughput Single-Cell Cytotoxicity Assay for T cells," J Vis. Exp. (72) doi: 10.3791/50058

, 2013

Sendra VG, Lie A, Romain G, Agarwal SK, Varadarajan N,

"Detection and isolation of auto-reactive human antibodies from primary B cells," Methods 10.1016/j.ymeth.2013.06.018

, 2013

Ramesh B, Sendra VG, Cirino PC, Varadarajan N,

"Single-cell characterization of autotransporter mediated Escherichia coli surface display of disulfide-bond containing proteins," J Biol Chem Nov 9;287(46):38580-9. doi: 10.1074/jbcc

, 2012

Varadarajan N, Julg B, Yamanaka YJ, Chen H, Ogunniyi AO, McAndrew E, Porter LC, Piechocka-Trocha A, Hill BJ, Douek DC, Pereyra F, Walker BD, Love JC,

"A high-throughput single-cell analysis of human CD8+ T cell functions reveals discordance for cytokine secretion and cytolysis," J Clin Invest, 121(11):4322-31

, 2011

Varadarajan N, Cantor J, Georgiou G and Iverson BL,

"Construction and flow-cytometric screening of targeted enzyme libraries," Nature Protocols, 4(6):893-901

, 2009

Varadarajan N, Pogson M, Georgiou G and Iverson BL,

"A three color multi-substrate flow-cytometric assay to engineer protease specificity for nitro-tyrosine," J. Am. Chem. Soc.,131(50):18186-18190. DOI: 10.1021/ja907803k

, 2009

Varadarajan N, Georgiou G, Iverson BL,

"Engineered Proteases that Cleave Specifically after Sulfalted Tyrosine for the Detection of Post-Translationally Modified Peptides," Angew Chem Intl Ed, 47(41):7861

, 2008

Varadarajan N, Rodriguez S, Hwang BY, Georgiou G, Iverson BL,

"Engineering a Family of Highly Active and Selective Endopeptidases with Programmed Substrate Specificities,"Nature Chemical Biology, 4(5):290-4

, 2008

Hwang BY, Varadarajan N, Li H, Rodriguez S, Iverson BL, Georgiou G,

"Substrate Specificity of the Escherichia coli Outer Membrane Protease OmpP," J. Bacteriology, 189: 522-30

, 2007

Varadarajan N, Gam J, Olsen MJ, Georgiou G, Iverson BL,

"Engineering of protease variants exhibiting high catalytic activity and exquisite substrate selectivity," Proc Natl Acad Sci U S A, 102:6855-60

, 2005