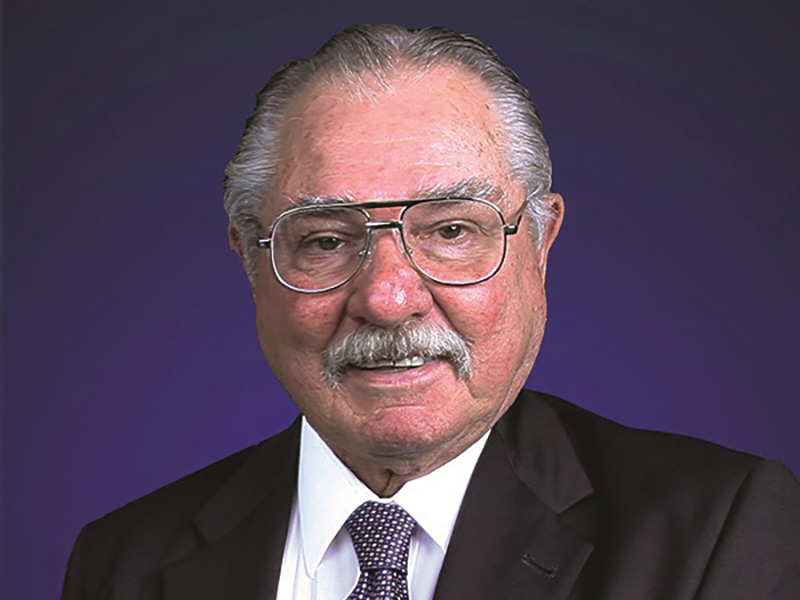 Dr. William A. Brookshire
The UH ChBE department has been renamed as the William A. Brookshire Department of Chemical and Biomolecular Engineering. Dr. William A. Brookshire graduated from UH in 1957 with a bachelor's degree in chemical engineering and later co-founded S&B Engineers and Constructors. Though he passed away in 2017, his continued philanthropic impact on the educational excellence of UH faculty, students and researchers is significant. Endowments fuel the momentum of the academic mission in perpetuity, helping the Cullen College of Engineering excel as an internationally recognized hub of research activity in the fields of chemical and biomolecular engineering.
Research News
| | |
| --- | --- |
| Thousands of chemical processes used by the energy industry and for other applications rely on the high speed of catalytic reactions, but molecules frequently are hindered by molecular traffic jams that slow them down. Now an entirely new class of porous catalysts has been invented, using unique fins to speed up the chemistry by allowing molecules to skip the lines that limit the reaction.  | Breaking Molecular Traffic Jams with Finned Nanoporous Materials |
| Not since the middle of the 20th century, amid the polio epidemic, have vaccines or drug treatment been so widely anticipated as those for COVID-19. In 1955 when the polio vaccine was licensed, the health outlook for millions of children improved and normal life resumed. Still, not all pandemics have found such resolution. | Showing Promise: UH Researchers Explore Care Options for COVID-19 |
| The complexity and mystery of zeolites – porous aluminosilicate crystals – was what first attracted Dr. Jeffrey Rimer, the Abraham E. Dukler Professor of Chemical and Biomolecular Engineering, to his current field of research. | Rimer receives NSF grant for zeolite work |
Student News
Like many others, Cullen College of Engineering alumnus Shiv Bhakta had his plans for 2020 changed by the coronavirus pandemic, but he has attempted to make the best of the situation with a new, philanthropic educational endeavor that uses his passion for STEM.

UH chemical engineering grad offering 'Idea Lab' for kids


When Ryan Poling-Skutvik enrolled at the University of Houston in 2013 to pursue a doctorate in Chemical Engineering, he did so because of the school's proximity to industry, not realizing that the experience would open him up to another interest – research.

Alum Poling-Skutvik tapped for tenure-track position at URI


Studying abroad changes you and influences your life more than you'd expect. Being away from your familiar surroundings isn't easy and can bring a steep learning curve that be a burst of personal development and growth.

In 2019 Amy Wang, a UH chemical engineering student, was awarded a SOL scholarship to study abroad in Costa Rica. The SOL education program offers an experience of interactive Spanish language, travel excursions and daily cultural activities.

Photos: UH Chemical Engineering Student Studies Abroad in Costa Rica

462
Undergraduate Students
The UH Chemical & Biomolecular Engineering Graduate Programs
The UH Cullen College of Engineering offers MChE non-thesis, M.S. course-based and Ph.D. degrees in chemical engineering.