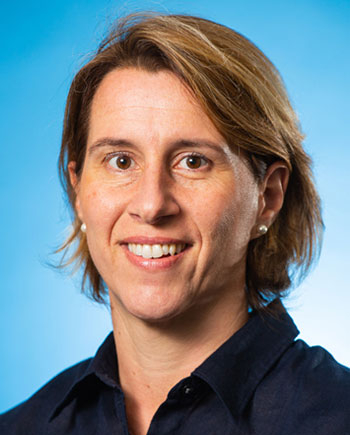 Research Associate Professor of Chemical and Biomolecular Engineering
Office Location: S185A, Engineering Building 1
Phone: 832-842-6301 | Fax: 713-743-4323
Email:
edkourentzi

[at]

uh [dot] edu
Education:
Diploma Chemical Engineering, National Technical University, Athens, Greece (1996)
Ph.D. Chemical Engineering, University of Houston, Houston (2002)
Courses:
Chemical Engineering Thermodynamics II_CHEE 3333 (Fall 2008, Fall 2009, Spring 2009)
Engineering Computing_ CHEE 1331 (Spring 2014, Fall 2015, Spring 2016)
Research Interests:
My research interests lie in the interface of engineering, nanotechnology and biology towards the utilization of the fundamentals of biomolecular recognition in the development of ultra sensitive diagnostic assays to meet the urgent and critical need for the early diagnosis of disease. My research includes the use of standard biophysical techniques such as, fluorescence anisotropy and SPR to acquire a mechanistic understanding of the details of antibody-antigen and DNA aptamer –protein recognition. It extends to the development of nanoparticle-based assays with main focus on optimizing surface chemistry for controlling specificity and fine tuning of the ligand-analyte detection schemes.
Awards & Honors:
2007: Roche Younger Investigator Award, Affinity 2007 Conference, International Society for Molecular Recognition
2000: Student Research Poster Award, Sigma Xi, University of Houston Chapter
1999: Hellenic Professional Society of Texas Scholarship for Excellence in Academic Achievement
Professional Activities:
2011 - Present: Editorial Board, PLOS ONE
1998 - Present: Member, American Chemical Society (ACS); Division of Biochemical Technology Peterson Award committee co-chair (2003-2005)
Selected Publications
Jacinto MJ, Trabuco JRC, Vu BV, Garvey G, Khodadady M, Azevedo AM, Aires-Barros MR, Chang L, Kourentzi K, Litvinov D, Willson RC.,

Enhancement of lateral flow assay performance by electromagnetic relocation of reporter particles. PLOS One, 13:e0186782

, 2018

Kim J, Vu B, Kourentzi K, Willson RC, Conrad JC,

Increasing Binding Efficiency via Reporter Shape and Flux in a Viral Nanoparticle Lateral-Flow Assay. ACS Appl Mater Interfaces, 9: 6878-84,

, 2017

Kisley L, Patil U, Dhamane S, Kourentzi K, Tauzin LJ, Willson RC, Landes CF.,

Competitive multicomponent anion exchange adsorption of proteins at the single molecule level. Analyst, 142 3127-3131,

, 2017

Liang Y, Chang L, Qiu W, Kolhatkar AG, Vu B, Kourentzi K, Lee TR, Zu Y, Willson R, Litvinov D. ,

Ultrasensitive Magnetic Nanoparticle Detector for Biosensor Applications. Sensors, 17, pii: E1296,

, 2017

Qiu W, Chang L, Linag YC, Litvinoc J, Guo J, Chen YT, Vu B, Kourentzi K, Xu S, Lee RT, Zu Y, Willson RC, Litvinov D. ,

Spin-Valve based magnetoresistive nanoparticle detector for applications in biosensing. Sensors and Actuators A: Physical, 265: 174-80

, 2017

Raja B, Goux HJ, Marapadaga A, Rajagopalan S, Kourentzi K, Willson RC.,

Development of a panel of recombinase polymerase amplification assays for detection of common bacterial urinary tract infection pathogens. J Appl Microbiol, 123: 544-555,

, 2017

Chen H, Hagström AE, Kim J, Garvey G, Paterson A, Ruiz-Ruiz F, Raja B, Strych U, Rito-Palomares M, Kourentzi K, Conrad JC, Atmar RL, Willson RC,

Flotation Immunoassay: Masking the Signal from Free Reporters in Sandwich Immunoassays. Scientific Reports, 6: 2497,

, 2016

Kim J, Poling-Skutvik R, Trabuco JR, Kourentzi K, Willson RC, Conrad JC.,

Orientational binding modes of reporters in a viral-nanoparticle lateral flow assay. Analyst, 142: 55-64,

, 2016

Kisley L, Poongavanam MV, Kourentzi K, Willson RC, Landes CF.,

pH-dependence of single-protein adsorption and diffusion at a liquid chromatographic interface. J Sep Sci, 39: 682-8,

, 2016

Kolhatkar AG, Jamison AC, Nekrashevich I, Kourentzi K, Litvinov D, Brazdeikis A, Willson RC, Lee RT.,

Enzymatic conversion of magnetic nanoparticles to a non-magnetic precipitate: a new approach to magnetic sensing. Analyst, 141: 5246-5251,

, 2016

Poongavanam MV, Kisley L, Kourentzi K, Landes C, Willson RC,

Ensemble and Single-Molecule Biophysical Characterization of D17.4 DNA Aptamer-IgE Interactions. Biochim Biophys Acta, 864: 154-64,

, 2016

Raja B, Pascente C, Knoop J, Shakarisaz D, Sherlock T, Kemper S, Kourentzi K, Renzi R F, Hatch AV, Olano J, Peng BH, Ruchhoeft P, Willson RC,

An embedded microretroreflector-based microfluidic immunoassay platform. Lab on a chip, 6: 1625-35,

, 2016

Xie M, Wang S, Singh A, Cooksey TJ, Marquez MD, Bhattarai A, Kourentzi K, Robertson ML.,

Fluorophore exchange kinetics in block copolymer micelles with varying solvent-fluorophore and solvent-polymer interactions. Soft Matter, 12: 6196-205,

, 2016

Hagström AE, Garvey G, Paterson AS, Dhamane S, Adhikari M, Estes MK, Strych U, Kourentzi K, Atmar RL, Willson RC.,

Sensitive detection of norovirus using phage nanoparticle reporters in lateral-flow assay. PLoS One. 10(5): e0126571.

, 2015

Kolhatkar AG, Dannongoda C, Kourentzi K, Jamison AC, Nekrashevich I, Kar A, Cacao E, Strych U, Rusakova I, Martirosyan KS, Litvinov D, Lee TR, Willson RC. ,

Enzymatic synthesis of magnetic nanoparticles. Int J Mol Sci, 16:7535-50,

, 2015

Dhamane, S, F Ruiz-Ruiz, WH Chen, K Kourentzi, J Benavides, M Rito-Palomares, and RC Willson,

Spermine Sepharose as a clustered-charge anion exchange adsorbent. Journal of Chromatography A, 1324: p. 135-140

, 2014

Garvey G, Shakarisaz D, Ruiz-Ruiz F, Hagström AE, Raja B, Pascente C, Kar A, Kourentzi K, Rito-Palomares M, Ruchhoeft P, Willson RC. ,

Microretroreflector-sedimentation immunoassays for pathogen detection. Anal Chem, 86: 9029-35,

, 2014

Kisley, L, JX Chen, AP Mansur, B Shuang, K Kourentzi, MV Poongavanam, WH Chen, S Dhamane, RC Willson, and CF Landes,

Unified superresolution experiments and stochastic theory provide mechanistic insight into protein ion-exchange adsorptive separations. Proceedings of the National Academy of Sciences of the United States of America, 111(6): p. 2075-2080

, 2014

Kisley, L, JX Chen, AP Mansur, S Dominguez-Medina, E Kulla, MK Kang, B Shuang, K Kourentzi, MV Poongavanam, S Dhamane, RC Willson, and CF Landes,

High ionic strength narrows the population of sites participating in protein ion-exchange adsorption: A single-molecule study. Journal of Chromatography A, 1343: p. 135-142

, 2014

Kourentzi, K and RC Willson,

Nanobiotechnology for Medical Diagnostics. Revista Mexicana De Ingenieria Quimica, 13(1): p. 9-18

, 2014

Litvinov, J, AE Hagstrom, Y Lopez, M Adhikari, K Kourentzi, U Strych, FA Monzon, W Foster, PT Cagle, and RC Willson,

Ultrasensitive immuno-detection using viral nanoparticles with modular assembly using genetically-directed biotinylation. Biotechnol Lett, 36(9): p. 1863-8

, 2014

Paterson AS, Raja B, Garvey G, Kolhatkar A, Hagstrom AE, Kourentzi K, Lee TR, Willson RC,

Persistent Luminescence Strontium Aluminate Nanoparticles as Reporters in Lateral Flow Assays. Anal Chem. p.9481-9499

, 2014

Wang, YA, A Kar, A Paterson, K Kourentzi, H Le, P Ruchhoeft, R Willson, and JM Bao,

Transmissive Nanohole Arrays for Massively-Parallel Optical Biosensing. Acs Photonics, 1(3): p. 241-245

, 2014

Adhikari, M, S Dhamane, AEV Hagstrom, G Garvey, WH Chen, K Kourentzi, U Strych, and RC Willson,

Functionalized viral nanoparticles as ultrasensitive reporters in lateral-flow assays. Analyst, 138(19): p. 5584-5587

, 2013

Cacao, E, T Sherlock, A Nasrullah, S Kemper, J Knoop, K Kourentzi, P Ruchhoeft, GE Stein, RL Atmar, and RC Willson,

Helium beam shadowing for high spatial resolution patterning of antibodies on microstructured diagnostic surfaces. Biointerphases, 8

, 2013

Cacao, EE, A Nasrullah, T Sherlock, S Kemper, K Kourentzi, P Ruchhoeft, GE Stein, and RC Willson,

High-Resolution, High-Throughput, Positive-Tone Patterning of Poly(ethylene glycol) by Helium Beam Exposure through Stencil Masks. Plos One, 8(5)

, 2013

Jaeger, IS, I Kretzschmar, J Korner, AA Weiser, CC Mahrenholz, A Potty, K Kourentzi, RC Willson, R Volkmer, and R Preissner,

Mapping discontinuous protein-binding sites via structure-based peptide libraries: combining in silico and in vitro approaches. Journal of Molecular Recognition, 26(1): p. 23-31

, 2013

Kanakaraj, I, WH Chen, M Poongavanam, S Dhamane, LJ Stagg, JE Ladbury, K Kourentzi, U Strych, and RC Willson,

Biophysical characterization of VEGF-aHt DNA aptamer interactions. International Journal of Biological Macromolecules, 57: p. 69-75

, 2013

Wang, S, T Sherlock, B Salazar, N Sudheendran, RK Manapuram, K Kourentzi, P Ruchhoeft, RC Willson, and KV Larin,

Detection and Monitoring of Microparticles Under Skin by Optical Coherence Tomography as an Approach to Continuous Glucose Sensing Using Implanted Retroreflectors. Ieee Sensors Journal, 13(11): p. 4534-4541

, 2013

Daniels, CR, L Kisley, H Kim, WH Chen, MV Poongavanam, C Reznik, K Kourentzi, RC Willson, and CF Landes,

Fluorescence correlation spectroscopy study of protein transport and dynamic interactions with clustered-charge peptide adsorbents. Journal of Molecular Recognition, 25(8): p. 435-442

, 2012

Chen, WH, JY Fu, K Kourentzi, and RC Willson,

Nucleic acid affinity of clustered-charge anion exchange adsorbents: Effects of ionic strength and ligand density. Journal of Chromatography A, 1218(2): p. 258-262

, 2011

Daniels, CR, C Reznik, R Kilmer, MJ Felipe, MCR Tria, K Kourentzi, WH Chen, RC Advincula, RC Willson, and CF Landes,

Permeability of anti-fouling PEGylated surfaces probed by fluorescence correlation spectroscopy. Colloids and Surfaces B-Biointerfaces, 88(1): p. 31-38

, 2011

Potty, ASR, K Kourentzi, H Fang, P Schuck, and RC Willson,

Biophysical characterization of DNA and RNA aptamer interactions with hen egg lysozyme. International Journal of Biological Macromolecules, 48(3): p. 392-397

, 2011

Sherlock, T, A Nasrullah, J Litvinov, E Cacao, J Knoop, S Kemper, K Kourentzi, A Kar, P Ruchhoeft, and R Willson,

Suspended, micron-scale corner cube retroreflectors as ultra-bright optical labels. Journal of Vacuum Science & Technology B, 29(6)

, 2011

Ivers, SN, SA Baranov, T Sherlock, K Kourentzi, P Ruchhoeft, R Willson, and KV Larin,

Depth-resolved imaging and detection of micro-retroreflectors within biological tissue using Optical Coherence Tomography. Biomedical Optics Express, 1(2): p. 367-377

, 2010

Mohan, S, K Kourentzi, KA Schick, C Uehara, CA Lipschultz, M Acchione, ME DeSantis, SJ Smith-Gill, and RC Willson,

Association Energetics of Cross-Reactive and Specific Antibodies. Biochemistry, 48(6): p. 1390-1398

, 2009

Potty, ASR, K Kourentzi, H Fang, GW Jackson, X Zhang, GB Legge, and RC Willson,

Biophysical Characterization of DNA Aptamer Interactions with Vascular Endothelial Growth Factor. Biopolymers, 91(2): p. 145-156

, 2009

Zhang, X, ASR Potty, GW Jackson, V Stepanov, A Tang, Y Liu, K Kourentzi, U Strych, GE Fox, and RCW Willson,

Engineered 5S Ribosomal RNAs Displaying Aptamers Recognizing Vascular Endothelial Growth Factor and Malachite Green. Journal of Molecular Recognition, 22(2): p. 154-161

, 2009

Kourentzi, K, M Srinivasan, SJ Smith-Gill, and RC Willson,

Conformational flexibility and kinetic complexity in antibody-antigen interaction. Journal of Molecular Recognition, 21(2): p. 114-121

, 2008

Peterson, KJ, JD Sadowsky, EA Scheef, S Pal, KD Kourentzi, RC Willson, EH Bresnick, N Sheibani, and SH Gellman,

A fluorescence polarization assay for identifying ligands that bind to vascular endothelial growth factor. Analytical Biochemistry, 378(1): p. 8-14

, 2008

Taylor, JN, Q Darugar, K Kourentzi, RC Willson, and CF Landes,

Dynamics of an anti-VEGF DNA aptamer: A single-molecule study. Biochemical and Biophysical Research Communications, 373(2): p. 213-218

, 2008

Larios-Sanz, M, KD Kourentzi, D Warmflash, J Jones, DL Pierson, RC Willson, and GE Fox,

16S rRNA beacons for bacterial monitoring during human space missions. Aviation Space and Environmental Medicine, 78(4): p. A43-A47

, 2007

Kourentzi, KD, GE Fox, and RC Willson,

Hybridization-responsive fluorescent DNA probes containing the adenine analog 2-aminopurine. Analytical Biochemistry, 322(1): p. 124-126

, 2003

Kourentzi, KD, GE Fox, and RC Willson,

Microbial identification by immunohybridization assay of artificial RNA labels. Journal of Microbiological Methods, 49(3): p. 301-306

, 2002

Kourentzi, KD, GE Fox, and RC Willson,

Microbial detection with low molecular weight RNA. Current Microbiology, 43(6): p. 444-447

, 2001

Hatzinikolaou, DG, E Kourentzi, H Stamatis, P Christakopoulos, FN Kolisis, D Kekos, and BJ Macris,

A novel lipolytic activity of Rhodotorula glutinis cells: Production, partial characterization and application in the synthesis of esters. Journal of Bioscience and Bioengineering, 88(1): p. 53-56

, 1999

Christakopoulos, P, E Kourentzi, DG Hatzinikolaou, M Claeyssens, D Kekos, and BJ Macris,

Enhancement of pH-stability of a low molecular mass endoglucanase from Fusarium oxysporum by protein pegylation. Carbohydrate Research, 314(1-2): p. 95-99

, 1998

Macris, JB, E Kourentzi, and DG Hatzinikolaou,

Studies on localization and regulation of lipase production by Aspergillus niger. Process Biochemistry, 31(8): p. 807-812

, 1996