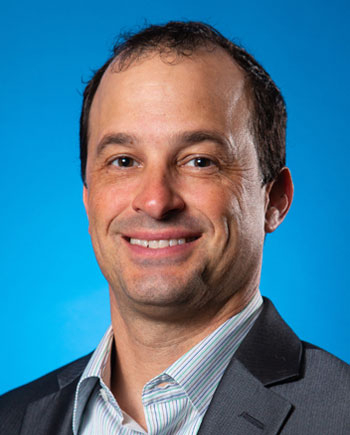 Associate Professor
Associate Professor of Biology and Biochemistry
Office Location: S337, Engineering Building 1; Laboratory: S294, Engineering Building 1
Phone: 713-743-4399 | Fax: 713-743-4323
Email:
pccirino

[at]

uh [dot] edu
Education:
Postdoctoral Associate, University of Florida
Ph.D., California Inst. of Technology, 2004
B.S., Chemical Engineering, Ohio University, 1997
Professional Experience:
Assistant Professor, Chemical Engineering, Pennsylvania State University, 2004 – 2010
Associate Professor, Chemical Engineering, Pennsylvania State University, 2010
Associate Professor, Chemical & Biomolecular Engineering, University of Houston, 2011 – present
Courses:
CHEE 2331, Chemical Processes (Fall Semester)
ENGI 2334, Introduction to Thermodynamics
Research Interests:
Our research was recently highlighted! (click to link)   (This appeared in: International Innovation)
Nature provides a vast collection of biological systems which have evolved mechanisms to achieve catalysis, regulation, molecular recognition, and energy utilization with incredible efficiency. Our ability to successfully re-design and harness such systems is integral to realizing a future of cost-effective "green" chemistry, renewable fuels and chemicals, bioremediation, and "next-generation" therapeutics.
Research in the Cirino laboratory interfaces Chemical Engineering with the biological sciences, with emphases in biomolecular engineering, metabolic engineering, and biocatalysis.  Recent research efforts are summarized in the poster presentations below (right click to view larger images).  By applying biological design principles at the molecular level (e.g., engineer proteins) as well as the systems level (e.g., engineer metabolic pathways and gene regulation) we are creating novel microbial strains with improved biocatalytic efficiency (e.g. increased supply of NADPH to transformations of interest), and we are designing novel biosensors by customizing regulatory proteins, with broad applications in synthetic biology and biocatalyst development.
Protein Engineering/Molecular Recognition
We are using combinatorial (evolutionary) as well as rational (structure-based) protein design techniques to engineer transcriptional regulatory proteins to serve as customized biosensors. These proteins are being designed to recognize specific non-native molecules of interest ("effectors") and report their presence and concentration by regulating expression of a reporter gene.  Such endogenous biosensors serve as powerful tools in synthetic biology and facilitate subsequent protein engineering and metabolic engineering efforts in our lab and others.

(Click to view a larger image)
Metabolic Engineering
Metabolic engineering is defined as the improvement of cellular activities by manipulation of enzymatic, transport, and regulatory functions of the cell with the use of recombinant DNA technology. Current research in our lab is aimed at modifying microbial metabolism to carry out new or improved bioconversions for the production of various secondary metabolites. This typically requires expression of foreign genes in an amenable microbial host (e.g. E. coli).  Several stages of genetic optimization are then required to improve efficiency and productivity.  As strategies to improve strain performance parameters are developed and tested, we gain new insights into microbial metabolism and physiology, further informing the design process.
In one example, we engineer the metabolism of E. coli to create biocatalytic strains which maximize yields on reducing equivalents in the form of NADPH, derived from renewable biomass sugars. This reducing power is subsequently channeled away from aerobic respiration and into driving reactions of interest, such as the reduction of xylose to xylitol (a sweetener and synthetic building block molecule).
In other examples, we are improving flux of precursors metabolites (e.g. acetyl-CoA and malonyl-CoA) toward the synthesis  of secondary metabolites (natural products such as polyketides and isoprenoids) by genetically modified bacteria.  This is largely accomplished via a "directed evolution" strategy in which large numbers of genetic variants are created and screened for improved properties.  This in turn requires high throughput screening of target compounds, which we achieve by creating customized molecular reporters derived from natural regulatory proteins.
Additional projects include engineering oxygenase enzymes to accommodate new or improved activities, and implementing our custom-designed regulatory proteins in high-throughput screening of novel enzyme and microbial biocatalysts (see above).  All research projects draw from a broad base of knowledge and experimental techniques spanning many disciplines, the common goal being that we use biology to solve problems pertinent to the expanding field of Chemical Engineering.
Computation and modeling contribute to many areas of our research by reducing experimental variables and guiding experimental efforts. Likewise, experimental results can provide information leading to improved biological models. This complementary exchange of information is realized through collaborations with Dr. Costas Maranas at Penn State University.
We gratefully acknowledge the National Science Foundation for numerous grants to support these research projects.

Research Group:
Dr. Cirino's Resea​rch Group:​
Lab Members:
Graduate Students
Christopher Frei
Ye Li
Shuai Qian
Zhiqing wang
Bala Ramesh (primary advisor is Dr. Navin Varadarajan)
Shaza Abnouf (primary advisor is Dr. Navin Varadarajan)
Undergraduate Students
Justin Hood (UH)
Aya Elsaadi (UH)
Former Lab Members:
Postdocs
Dr. Joseph Gredell (now Senior Scientist at Novozymes)
Dr. Shuang-Yan Tang (now Professor at Chinese Academy of Sciences, Institute of Microbiology) LINK HERE
Dr. Hui Li
Graduate Students
Dr. Olubolaji Akinterinwa (PhD 2010): currently at Procter & Gamble
Dr. Jonathan Chin (PhD 2010): currently at Algenol Biofuels
Dr. Reza Khankal (PhD 2010): currently at Glycos Biotechnology
Dr. Hossein Fazelinia (Ph.D.  2009 co-advised by C.Maranas)
Lexan Lhu (M.S.; employed at Joule Biotechnologies, MA)
Christopher Frei (M.S. 2010): now a Ph.D. student in Cirino lab
Francesca Luziatelli (visiting student from U of Tuscia, Italy)
Lois Eppihimer (lab manager)
Undergraduate Researchers
Wayne Andrade (UH)
Chelsea Kraynak (University of MD, REU summer 2012)
Oliver Chou (U Colorado Boulder)
Kyle Schutter (Brown University; now CEO of Takamoto Biogas Ltd.)
Nicholas Linn (NC State)
Berook T. Alemayehu (U Maryland: Baltimore County)
Audrey Leung (University of Iowa)
Caroline Monroe (Penn State)
Anthony Tascone (Penn State)
Renae Patch (Penn State)
Garrett Tobin (Penn State)
Jeremy Sargent (Penn State)
J. Lane Weaver (Penn State)
Jon P. Badalamenti (Penn State)
Lucien E Weiss (Penn State)
Julie Sawlsville (Penn State)
Geoff Geise (Penn State)
Doug Haag (Penn State)
Megan Rex (Penn State)
Chris Cottle (Penn State)
Panagiotis A Papadopoulos (Penn State)
Matthew Zapadka (Penn State)
Samhita Banavar (PA Governor's school for high school students)
Work-Study Students
Ryan Noraas
Tiffany Veet
Khai Van
John Ajak
Awards & Honors:
2006 N.S.F. CAREER Award Recipient
Associate Editor: BMC Biotechnology
Editorial Board Member: Biotechnology Letters, Biotechnology Journal, Journal of Biological Engineering
Guest Editor, "Applications of Synthetic Biology in Microbial Biotechnology", Journal of Biomedicine and Biotechnology (2009)
ACS BIOT 2012 Program Chair
SIM Biocatalysis program co-chair, 2010 - 2014
Professional Activities:
Councilor, Institute of Biological Engineering (IBE), 2006-2010
Faculty Advisor, Penn State iGEM Undergrad Research (Synthetic Biology) 2006 - 2009
Instructor, Fundamentals of Bioseparation Techniques, Penn State Biotechnology Training Program (2004 - 2010)
Selected Publications
Qian, S., et al,

"Biosensor-guided improvements in salicylate production by recombinant Escherichia coli." Microbial Cell Factories 18.

, 2019

Frei CS, Wang ZQ, Qian S, Deutsch S, Sutter M, & Cirino PC,

Analysis of amino acid substitutions in AraC variants that respond to triacetic acid lactone. Protein Science, 25(4), 804-814. doi: 10.1002/pro.2873

, 2016

Qian S, & Cirino PC,

Using metabolite-responsive gene regulators to improve microbial biosynthesis. Current Opinion in Chemical Engineering, 14, 93-102. doi: 10.1016/j.coche.2016.08.020

, 2016

Sharma S, Jaimes-Lizcano YA, McLay RB, Cirino PC, & Conrad, JC,

Subnanometric Roughness Affects the Deposition and Mobile Adhesion of Escherichia coli on Silanized Glass Surfaces. Langmuir, 32(21), 5422-5433. doi: 10.1021/acs.langmuir.6b00883

, 2016

Wang ZQ, & Cirino PC,

New and improved tools and methods for enhanced biosynthesis of natural products in microorganisms. Current Opinion in Biotechnology, 42, 159-168. doi: 10.1016/j.copbio.2016.05.003

, 2016

Li Y and PC Cirino,

Recent advances in engineering proteins for biocatalysis. Biotechnology & Bioengineering, 111(7), 1273-1287.

, 2014

Grisewood MJ, Gifford NP, Pantazes RJ, Li Y, Cirino PC, Janik MJ, and CD Maranas,

OptZyme: computational enzyme redesign using transition state analogues. PLoS One.8(10):e75358

, 2013

Qian S and PC Cirino,

Protein engineering as an enabling tool for synthetic biology. In Synthetic Biology: Tools and Applications. 23-42. Edited by H. Zhao. Elsevier

, 2013

Tang SY, Qian S, Akinterinwa O, Frei CS, Gredell JA, and PC Cirino,

Screening for enhancedtriacetic acid lactone production by recombinant Escherichia coli expressing a designedtriacetic acid lactone reporter. Journal of the American Chemical Society. 135:10099-10103

, 2013

Gredell JA, Frei CS and PC Cirino,

Protein and RNA engineering to customize microbial molecular reporting. Biotechnology Journal. 7(4):477-99

, 2012

Ramesh B, Sendra VG, Cirino PC, and N Varadarajan,

Single-cell characterization of autotransporter-mediated Escherichia coli surface display of disulfide bond-containing proteins. Journal of Biological Chemistry. 287(46):38580-9.

, 2012

Akinterinwa O and PC Cirino,

Anaerobic obligatory xylitol production in Escherichia coli strains devoid of native fermentation pathways. Applied and Environmental Microbiology.77(2):706-9

, 2011

Chin JW and PC Cirino,

Improved NADPH supply for xylitol production by engineered Escherichia coli with glycolytic mutations. Biotechnol. Progress, 27(2):333-41

, 2011

Chin JW and PC Cirino,

Strain engineering strategies for improving whole-cell biocatalysis: engineering Escherichia coli to overproduce xylitol as an example. Nanoscale Biocatalysis: Methods in Molecular Biology, 743:185-203

, 2011

Chin, J. W.; Cirino, P. C.,

Improved NADPH Supply for Xylitol Production by Engineered Escherichia Coli with Glycolytic Mutations. Biotechnology Progress 2011, 27 (2), 333-341.

, 2011

Fasan R, Crook NC, Landwehr M, Cirino PC, and FH Arnold,

Improved product-per-glucose yields in P450 dependent propane biotransformations using engineered E. coli. Biotechnol Bioeng., 108(3):500-10

, 2011

Fasan, R.; Crook, N. C.; Peters, M. W.; Meinhold, P.; Buelter, T.; Landwehr, M.; Cirino, P. C.; Arnold, F. H.,

Improved NADPH supply for xylitol production by engineered Escherichia coli with glycolytic mutations. Biotechnol. Progress, 27(2):333-41

, 2011

Tang SY and Cirino PC,

Design and application of a novel mevalonate-responsive regulatory protein. Angewandte Chemie International Edition. 50(5):1084-6

, 2011

Cirino PC,

Metabolic engineering strategies for production of commodity and fine chemicals: Escherichia coli as a platform organism. Manual of Industrial Microbiology and Biotechnology. ASM Press, ISBN: 9781555815127

, 2010

Tang SY and PC Cirino,

Elucidating residue roles in engineered variants of AraC regulatory protein. Protein Sci. 19(2):291-8

, 2010

Akinterinwa O and PC Cirino,

Heterologous expression of D-xylulokinase from Pichia stipitis enables high levels of xylitol production by engineered Escherichia coli growing on xylose. Metab Eng. 11(1):48. Cover article

, 2009

Akinterinwa, O and PC Cirino,

Catabolism and Metabolic Fueling Processes. In: The Metabolic Pathway Engineering Handbook, ISBN: 9780849339233

, 2009

Chin JW, Khankal R, Monroe CA, Maranas CD, and PC Cirino,

Analysis of NADPH supply during xylitol production by engineered Escherichia coli. Biotechnol. Bioeng. 102(1):209.Spotlight article

, 2009

Fazelinia H, Cirino PC, and CD Maranas,

OptGraft: A computational procedure for transferring a binding site onto an existing protein scaffold. Protein Sci. 18(1):180

, 2009

Frei CS and PC Cirino,

Combinatorial Enzyme Engineering. In: Protein Engineering and Design. J.R. Cochran and S. Park, Eds. Publisher: CRC; 1 edition, ISBN-10: 1420076582

, 2009

Khankal R, Chin JW, Ghosh D, and PC Cirino,

Transcriptional effects of CRP* expression in Escherichia coli. J. Biol. Eng. 3:13

, 2009

Khoury GA, Fazelinia H, Cirino PC, and CD Maranas,

Computationally driven redesign of Candida boidinii xylose reductase for altered cofactor specificity. Protein Sci.18(10):2125-38. Cover article

, 2009

Akinterinwa O, Khankal R, and PC Cirino,

Metabolic Engineering for Bioproduction of Sugar Alcohols. Curr Opin Biotechnol. 19(5):461

, 2008

Cirino PC and Sun L,

Advancing Biocatalysis through Enzyme, Cellular, and Platform Engineering. Biotechnol. Progr. 24(3):515

, 2008

Khankal R, Chin JW, PC Cirino,

Role of xylose transporters in Escherichia coli engineered for xylitol production. J. Biotechnol. 134(3-4):246

, 2008

Khankal R, Luziatelli F, Chin JW, Frei CS and PC Cirino,

Comparison between three common Escherichia coli lab strains as platforms for xylitol production. Biotechnol Lett.30(9):1645

, 2008

Tang SY, Fazelinia H, and PC Cirino,

AraC regulatory protein mutants with altered effector specificity. J. Am. Chem. Soc. 130(15):5267

, 2008

Weiss LE, Badalamenti JP, Weaver JL, Tascone AR, Weiss PS, Richard TL, and PC Cirino,

Engineering motility as a phenotypic response to LuxI/R-dependent quorum sensing in Escherichia coli. Biotechnol Bioeng. 100(6):1251. Spotlight article

, 2008

Badalamenti JP, Weiss LE, Buckno CJ, Richard TL, Weiss PS, and PC Cirino,

Synthetic Sports: A Bacterial Relay Race. IET Synth. Biol. 1:61

, 2007

Fazelinia H, Cirino PC, and CD Maranas,

Extending IPRO in protein library design for ligand specificity. Biophys. J. 92(6):2120

, 2007

Cirino PC, Chin JW and LO Ingram,

Engineering Escherichia coli for Xylitol Production from Glucose-Xylose Mixtures. Biotechnol. Bioeng. 95: 1167

, 2006

Cirino PC and FH Arnold,

A self-sufficient peroxide-driven hydroxylation biocatalyst. Angew. Chem.-Int. Edit. 42: 3299

, 2003

Cirino PC and R Georgescu,

Screening for thermostability. Methods Mol Biol. 230: 117

, 2003

Cirino PC, Mayer KM, and D Umeno,

Generating mutant libraries using error-prone PCR. Methods Mol Biol. 231: 3

, 2003

Cirino PC, Tang Y, Takahashi K, Tirrell DA and FH Arnold,

Global Incorporation of Norleucine in Place of Methionine in Cytochrome P450 BM-3 Heme Domain Increases Peroxygenase Activity. Biotechnol. Bioeng. 83: 729

, 2003

Salazar O*, Cirino PC* (*equal contributions) and FH Arnold,

Thermostabilization of a Cytochrome P450 Peroxygenase. ChemBioChem. 4: 891

, 2003

Cirino PC and FH Arnold,

Regioselectivity and activity of cytochrome P450 BM-3 and mutant F87A in reactions driven by hydrogen peroxide. Adv. Synth. Catal. 344: 932

, 2002

Cirino PC and FH Arnold,

Protein engineering of oxygenases for biocatalysis. Curr. Opin. Chem. Biol. 6: 130

, 2002
Editorials / Edited Volumes
Alper H, Cirino P, Nevoigt E, and Sriram G,

Applications of Synthetic Biology in Microbial Biotechnology. J Biomedicine Biotechnology. Article ID 918391

, 2010
Patents
Cirino PC and Ingram LO, inventors, Materials and methods for the efficient production of xylitol in E. coli, U.S. Patent Application Serial No. 20070072280. Licensed to BioEnergy International

Arnold FH and Cirino PC, inventors. Thermostable peroxide-driven cytochrome P450 oxygenase variants and methods of use. U.S. Patent No. 7,435,570. Licensed to Codexis

Cirino PC and Arnold FH, inventors. Peroxide-driven cytochrome P450 oxygenase variants. U.S. Patent No. 7,704,715. Licensed to Codexis